Brighton Speedway - September 20-21, 2019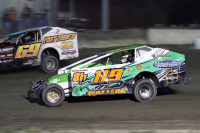 The regular season wrapped up with the annual Applefest Shootout. The weather was warm and the pits were packed with cars.

September 20

Click for larger size sample photos


Comp4
Thunder Stock
Canadian Modified
Late Model
Vintage Modified
Sportsman Modified
Brighton Speedway - September 7, 2019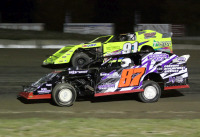 It was the Danny Reid Memorial 50 lapper for Canadian Modifieds and the final points night for all classes with champions being crowned.

Click for larger size sample photos

Jr Stinger
Sr Stinger
Comp4
Thunder Stock
Canadian Modified
Late Model
Brighton Speedway - August 31, 2019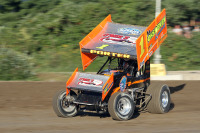 The SOS cars were back for their final appearance of the schedule. Yet again this year, rain impacted the schedule with day 2 of the Labour Day weekend being rained out.

Click for larger size sample photos

Jr Stinger
Sr Stinger
Comp4
Thunder Stock
Canadian Modified
SOS
Brighton Speedway - July 20, 2019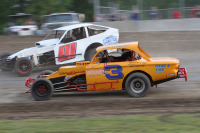 After yet another rain-out on July 13 we were back in action with Eastern Ontario Vintage Stock Car Club, Vans and Fan Appreciation.

Click for larger size sample photos

Comp4
Thunder Stock
Canadian Modified
Late Model
Van
Vintage Modified

Brighton Speedway - July 6, 2019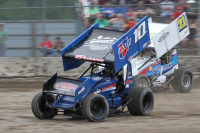 The Southern Ontario Sprints were back for their second visit of the season and the karts put on a demo.

Click for larger size sample photos

Comp4
Canadian Modified
Late Model
Karts
SOS
Brighton Speedway - June 29, 2019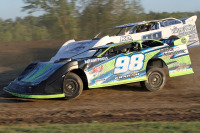 It was the Canada Day weekend and all of Brighton's classes were in action.

Click for larger size sample photos

Jr Stinger
Sr Stinger
Comp4
Thunder Stock
Canadian Modified
Late Model

Brighton Speedway - June 22, 2019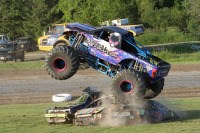 The weather was great and the Monster Trucks were in town.

Click for larger size sample photos

Comp4
Thunder Stock
Canadian Modified
Late Model
Monster Trucks
Brighton Speedway - June 15, 2019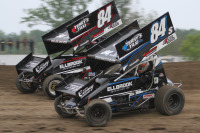 Again rain was threatening but we got the whole night in. The SOS cars made their first appearance of the season.

Click for larger size sample photos

Jr Stinger
Sr Stinger
Thunder Stock
Canadian Modified
Late Model
SOS
Brighton Speedway - June 8, 2019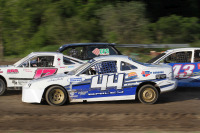 We finally had a night where weather was not going to be an issue. All of Brighton's regular classes were in action.

Click for larger size sample photos

Jr Stinger
Sr Stinger
Comp4
Thunder Stock
Canadian Modified
Late Model
Brighton Speedway - June 1, 2019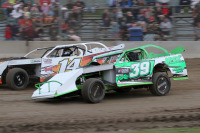 Brighton was back in action again after a rain-out on May 25. The rain was threatening again and the flooding situation continues. The rain held off and the track staff have been doing an amazing job in keeping the pits open.

Click for larger size sample photos

Bus
Comp4
Thunder Stock
Canadian Modified
Late Model
Brighton Speedway - May 11, 2019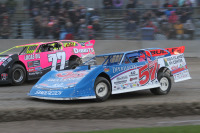 After a rain-out on May 4 we got the 2019 season underway with Brighton's six classes.

Click for larger size sample photos

Junior Stinger
Senior Stinger
Comp4
Thunder Stock
Canadian Modified
Late Model

Updates - Winter 2018-19
I have been making some updates to the site this winter. There have been some updates to track database entries (too many to note) and I've added quite a few photos.

March 29, 2019: There are now 892 tracks listed in the database and of those, 67% have map locations. I suspect I am nearing the reasonable limit for how many tracks I will be able to find maps. Some of the tracks will never be located. Thanks are in order for the work that Kyle Rizok has posted on some Facebook pages and for the Quebec research done by Pascal 'Magnum' Côté and his friends at http://www.stockcarquebec.ca. Here is the provincial breakdown:


| | | |
| --- | --- | --- |
| Province | Total Tracks | Tracks with Maps |
| AB | 96 | 74 |
| BC | 103 | 77 |
| MB | 34 | 27 |
| NB | 34 | 26 |
| NF | 13 | 10 |
| NS | 49 | 32 |
| NT | 3 | 2 |
| ON | 292 | 198 |
| QC | 182 | 105 |
| PE | 13 | 7 |
| SK | 70 | 41 |
| YK | 3 | 1 |
| | 892 | 600 |

Feb 10, 2019: I have added Google maps locations for about 25% of the tracks in the track database. My main focus has been on Ontario, the Territories and the Maritimes. See Speedway Park in Concord, ON for an example. There are still some missing from these provinces and I will continue to research them and update the site. I will add Quebec and the western provinces soon.

Bob Lawless sent me several Kingston Speedway photos. The Toronto Star Archive is available through the Toronto Public Library site and can be used for educational and research purposes. I have also found some photos that people sent me over the years and got lost in my computer.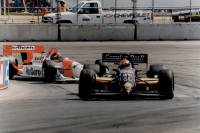 The following track database entries have had some photos added: Abbotsford Airfield, Airdrie Airport, Barrie Speedway, Central Canada Exhibition, Circuit Gilles Villeneuve, CNE Speedway, Hamilton street circuit, Hastings Park, Le Circuit Mont Tremblant, Minoru Park, Mosport, Mountain Speedway, Nilestown Speedway, Pinecrest Speedway, Quinte Dragway, Shepard Raceways, Skydome, Speedway Park (Stoney Creek), St. Thomas Raceway, Sundance Speedway, Toronto Indy, Toronto Motorsports Park, and Windsor Motor Speedway.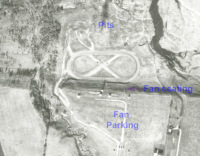 I have also been going through the University of Toronto's 1954 aerial database and added aerial photos for the following tracks: Ailsa Craig Raceway, Ascot Park Speedway, Bluewater Speedway, Bridgeport Speedway, Meadow Park Speedway, Oshawa Motor Raceway, Pinecrest Speedway, Pleasure Valley Speedway, Sarnia-Glendale Speedway, Shannonville Speedway, Speedway Park (Concord), Stratford Speedway, St. Thomas Raceway, Sun Valley Speedway, Teviotdale Speedway, Tilbury Speedway and Warwick Raceway.
Site Updates: Late 2017, early 2018
I was able to put aside my military history writing for a while to finally get back to updating the history part of this site in the fall and winter of 2017-2018.

March 13, 2018: Another update of the track database - lots of changes. I have also changed the database from Access to MySQL, which I hope will fix the slowness issue.
March 3, 2018: Added a Shearing Speedway program cover and photos for Oakwood Speedway, Richelieu Park, Langford Speedway and Peterborough Speedway.

December 21, 2017: Photos added for Davidson Airport.

December 20, 2017: Photos added for Lansdowne Speedway, Saratoga Speedway (QC) and Murillo Speedway.

December 13, 2017: The track database has finally been updated after about five years! There are more changes that I can cover here. Several tracks closed, some name changes, lots of facts updated and even some new entries. Also added were photos for Orillia Speedway, photo and program for Beamishill Speedway, photos for CNE Speedway, Edmonton Exhibition, Brighton Speedway (paved), Seymour Speedway, Mosport Speedway and Tweed Speedway.
November 29, 2017: The first update is to change how the historic photos appear. They are now a Facebook-style browser, the same as I changed the Brighton Speedway galleries prior to the 2017 season. While doing this update I took the time to add photos for Wasaga Beach Speedway, Aylmer Fairgrounds and Speedway Park (Concord, ON).


Brighton Speedway Photos


CanadianRacer.com has been the official track photographer at Brighton Speedway since the 2009 season.

All the Brighton photos on this site are available for sale.

Photos page for previous years

Rod H.
E-mail me
The Canadian Race Track Database
Over 890 race tracks have operated in Canada over the years and they're listed here.

---