The Canadian Race Track Database
Over 800 race tracks have operated in Canada over the years and they're listed here.

---
Join the Discussion
Discussions have started in many articles.

How about joining in?
Recent Discussions:



Canadian Tire Motorsport Park - NASCAR Truck
August 30-September 1, 2013
Posted: September 7, 2013

It was the first time that the NASCAR Camping World Truck Series raced outside of the United States and the first road course race for the series since 2000. Chase Elliott took home the victory.

The first group of shots are from practice on Friday. The race shots start with the shot of the field crossing under the Michelin bridge. I could only stay for the first hour of the race on Sunday as I had to leave for Brighton Speedway.

Click for some photos


No photos from August 17...
...I was on vacation.

Update on the site - a long time between updates
Posted: Feb 3, 2013
It's been almost a year since I provided an update on why I haven't been adding anything to the site recently except Brighton Speedway photos.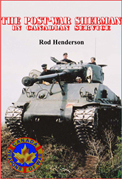 At the time of my last update posting I was just finishing off my first book. I wrote a small book on Canadian military history that was published in June 2012. I had already started on my next writing project. I'm writing a regimental history that will be published in 2016. With that hard date in place I am putting a lot of my spare time into the research and writing.

I have a big backlog of historic photos that readers of the site have kindly sent to me. I still plan to get these posted at some point. Please continue sending me your old racing photos. At some point I will need a break from military history!

I'm back as the track photographer at Brighton Speedway this year and I'll be posting photos as I have over the previous four seasons. I will be making some visits to other tracks in 2013 - Canadian Tire Motorsports Park road course, Ohsweken, Merrittville and Peterborough.



Brighton Speedway Photos


CanadianRacer.com has been the official track photographer at Brighton Speedway since the 2009 season.

All the Brighton photos on this site are available for sale

Photos Page

Rod H.
E-mail me
Coming Soon
(sometime, when I get time!)
Ghost Track - Golden Lake Speedway


The History of Western Speedway by Lois Pollard-Grant