Another racing season in Southern Ontario has rocketed past us and before you know it, Ice Racing season will be upon us. For the second year in a row, I've decided to share my season with the readers of the site. One of the recurring themes this year was rain. It didn't seem to rain much through the week - just on the weekend.

In early August, the price of a Pentax digital SLR camera was finally so low that I couldn't wait any longer and I bought one. I took it to almost every race event. Throughout this article there are links to the various photo galleries that I have put together.

Saturday nights were split between Mosport and Brighton. Unfortunately, I didn't get out to Brighton nearly as much as I would have liked but I did make it to most of the Southern Ontario Sprint shows. I had planned to go to Brighton for the Southern Ontario Sprints double-header on the Saturday night and Sunday night of the Labour Day weekend but the heavy rain that weekend cancelled the whole thing. Also on my plans was to attend the 358 Modified Shootout on September 23 but again, the weather was looking bad so I I stayed home. They got most of the night in, but the 40-lap 358 Modified feature was rained out. Brighton Photo Gallery (includes Southern Ontario Sprints).

Mosport's 6 or Less division featured a lot of action
The CASCAR Sportsman Series was at Mosport on June 17 for a 100-lapper. The only time I saw the Canadian Vintage Modifieds this year was at Mosport on August 26. I attended for all three visits of the OSCAAR Outlaw Super Late Models to Mosport this year. The June 26 event was rather shocking and bizarre: the Super Lates ran a caution-free 50 lap feature. I thought the Leafs would win the Stanley Cup before I saw that, but there it was. Well done to all the drivers. I also saw the Ontario Legends and the Cup Lites as Mosport this year. Mosport Photo Gallery including all regular classes plus Vintage Mods and OSCAAR .

Many Friday nights were spent at Kawartha Speedway. I saw both visits of OSCAAR but the feature was rained out on June 2. Kawartha ran a few extra-length features this and I was able to see most of them.

The final night of the season was on September 29. It was quite a chilly night and I had my young son with me so I decided to do something that I've never done before: I sat in the enclosed grandstand. It was great to sit in heated comfort on a chair with a back rest. They also show the races on the televison monitors. I noticed the enclosed grandstand filled up as the night progressed and the outdoor grandstands emptied. My hat is off to the few hardy souls who remained outdoors all night.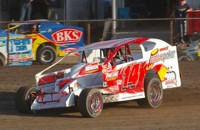 Alan Johnson won the 100 lap Trevor Wilkens Memorial at Merrittville
On the long weekend in August, my brother and I ventured down to the Niagara region to do the Humberstone / Merrittville double. The Ontario Dirt Late Model series was on the card at Humberstone on the Sunday night. The car count was only twelve for unknown reasons. Darren Kish won his fourth straight ODLM feature of the season.

The following night was the 100-lap Trevor Wilkens Memorial for big-block Modifieds at Merrittville. There were 34 Modifieds on hand including Tim Fuller, Brett Hearn, Billy Decker, Alan Johnson, Dale Planck, Danny Johnson and Pete Bicknell. It was a nice, clean feature with Alan Johnson taking the win and Bicknell finishing second after starting mid-pack in 16th. Merrittville Photo Gallery.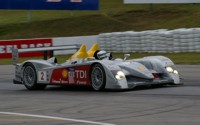 The ALMS winning Audi at Mosport
The American Le Mans Series and suppporting classes rolled into the Mosport road course on the Labour Day Weekend. I took the day off work on Friday and spent a great afternoon sitting at turn 5 taking photos. I went back on Sunday for the main races. I roamed around the track between turn 8 and turn 2, taking a ton of photos. Of course, Saturday it rained all day and Sunday morning started with rain. Mosport Labour Day Weekend Photos are linked on the Main Photos page.

Optical Illusion: I discovered this at the American Le Mans Weekend at Mosport. Click on the link below. If you stare at the photo, after about 5 minutes you'll see two race car drivers. It's crazy and I don't know how it works, but give it a try.

Click here for the optical illusion.
I was happy that I was able to make it to Ohsweken Speedway for this year's Canadian Sprint Car Nationals after missing it last year. There were 76 sprinters trying to make it into the 27-car "A" Main. There were drivers from Ontario, Quebec, BC, Ohio, New York, Pennsylvania, Indiana and Connecticut. Steve Poirier of Quebec was able to stay away from the big crashes and won the "A" main. I was only able to take photos during the practice sessions. It was just too dark once the sun went down. The Canadian Sprint Car Nationals photo gallery is here.

This was the first time that I had been in the pits at Ohsweken and I was quite impressed. They have the finest pit washrooms I have ever seen. The floors and walls are the kind high-quality tile that you would see in a nice home. The stalls were huge and the toilets and urinals all had the electronic-eye flush. The pit area itself is quite large and flat. There was lots of room for all the sprinters. The cars are teched in a steel building with concrete floors and good lighting.

I also made it out to the Mosport road course for the CASC-OR regional races on August 26 and again for the Mosport Celebration on October 1. If you haven't been to Regional races, I suggest you try it next year. Admission is free if you print off tickets from the CASC-OR web site. You'll get to see a wide variety of classes and some very interesting machinery. CASC-OR Photo Gallery from both weekends.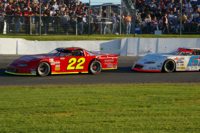 Glenn Watson and John Fletcher at the Autumn Colours Classic
My season wrapped up, as it usually does, with the Autumn Colours Classic at Peterborough Speedway. The weather was absolutely amazing. The highs were in the low 20's and it was sunny all day. It was a very enjoyable day watching Mini-Stocks, Thunder Cars, Modifieds, Limited Late Models, Late Models and Super Late Models. Autumn Colours Classic Photo Gallery.

I had promised myself that I would go to Flamboro for the Oktoberfest weekend this year. They tried 3 times but the weather failed to cooperate and the second day of the weekend was never run.





Tracks Attended:
Oval Touring Series Seen:
Road Racing Series Seen:
Mosport Speedway
Mosport International Raceway (road course)
Kawartha Speedway
Brighton Speedway
Humberstone Speedway
Merrittville Speedway
Ohsweken Speedway
Peterborough Speedway
OSCAAR
Canadian Vintage Modifieds
Cup Lites
Ontario Legends Series
Ontario Dirt Late Models
Southern Ontario Sprints
DIRT Big Block Modifieds
CASCAR Sportsman Series
American GT Series
American Le Mans Series
Speed World Challenge Touring
Speed World Challenge GT
Formula BMW
Formula Mazda
CASC Ontario Regionals

The 2006 CanadianRacer.com Awards:


Best Pit Washrooms: Ohsweken Speedway by far.
Longest Green Flag Run: 61 laps at Kawartha LM 100 lapper on July 14.
Best Fries: Humberstone Speedway. I didn't eat the fries everywhere so this one is debateable, but Humberstone has fresh-cut, chip truck style fries.
Biggest 50/50 Jackpot: $3000 at Merrittville. No, I didn't win it.
Best Track Lighting: Kawartha. Most tracks have some darker areas between the lights. Mosport and Merrittville both give Kawartha a run for good lighting but they do have some small dark areas. Kawartha has none. It's evenly lit all the way around the track.
Series With The Best Nicknames: The Southern Ontario Sprints. Kyle Patrick is "The Tilbury Tornado", Glenn Styres is "The Ohsweken Flyer" and Rick Wilson is the "Joyceville Jet".
Utter Domination Award: Dwight Brown of the Modified Division at Mosport won all but 1 of the features this year.

Your Turn

Let's hear about your 2006 season. What tracks did you visit and what series did you see? What was new, cool or interesting? What did you like and dislike? It would be great to hear from fans and drivers from across Canada. What was happening in the Maritimes or Quebec? What about the Prairies or the west coast?

Leave your comments here.