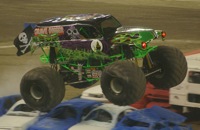 The Grave Digger in action at Monster Jam
My 2007 racing season started early with Monster Jam at the Rogers Centre in Toronto. I took my seven year-old son and we both had a great time. I was able to get a few good actions shots. The Monster Jam gallery is located here.

I made it up to Minden for the CASC ice races in February. The day turned out be colder than I expected and since my son was with me, we cut the day short. It was snowing lightly which made it difficult to take good photos. The racing was good though.
Once the regular racing season started, most Saturday nights I was at Mosport Speedway. I normally took my camera and I've put together a collection of some good shots on this gallery page that includes the regular Mosport classes put some touring series. September 1 was an interesting night for me. Mosport's regular photographer, Peter Brand, had a personal committment on that night. I've known Peter for a few years from being the Mosport webmaster. I purchased a digital SLR in 2006 and ever since, I often pester him for advice. Peter asked me to cover for him, so that night I was the Mosport track photographer.

The only NASCAR Canadian Tire Series race that I attended was the Full Throttle Energy Drink 200 presented by Canadian Shield at Mosport Speedway on August 11. The race itself was good but it would have been better to have had some support races to fill out the evening. I really like the new scoreboard that Mosport installed for the NCATS race and I was glad to see them using for the remaining nights of the regular season.

Mosport was also the site for the first race of the Ontario Sportsman Series. The OSS was created by driver Ron Lethbridge, his father Ted Lethbridge and Sunset Speedway owner Glenn Lloyd after the death of the CASCAR Sportsman Series. I was pleased to see the OSS grow over the year. I wrote an article, with photos, for that first race and it's located here.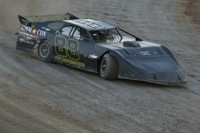 Andrew Reaume of the Ontario Dirt Late Model series slides through Brighton's turn 4
I made it to Brighton Speedway on May 12 and September 7 for the Southern Ontario Sprints. I also attended Brighton for the 358 Modified Applefest Shootout. The SOS cars put on their usual good show both nights. The 3rd annual 358 Modified event added the Ontario Dirt Late Models for extra action. It was one of the best values for a spectator's money all year. How can you beat 358 Modifieds and Dirt Late Models on the same night? I've put together a Brighton photo gallery that includes some of the regular classes plus SOS and Late Models.
I visited Ohsweken Speedway twice in 2007. My first trip was for the World of Outlaws event on July 25. I cover the WoO event with a few photos in a dedicated article. I was back at Ohsweken for the Canadian Sprint Car Nationals on September 15. There was also an article with a bunch of photos for this event. Both were great nights of racing.

I did my now-traditional Humberstone / Merrittville double-header on the Civic Holiday weekend. I covered this weekend, including photos in a previous article.

In August I went on a short vacation to Ottawa with my son. I took the opportunity to make my first-ever visit to Capital City Speedway. Uniquely, Capital City runs on Wednesday night. Despite the odd night, the car count and fan attendance were pretty decent.

I only made it to Kawartha Speedway twice this year. Both nights were for the OSCAAR events. I never bothered to take my camera because the shots don't look good through the fence.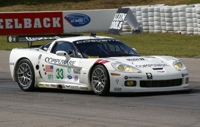 Ron Fellows made his final start in the factory Corvette in ALMS at Mosport
Over on the road racing side of things, I atttended several events at the Mosport road course. The Castrol Canadian Touring Car Championship was a series that evolved out of the Ontario Touring Championship. They ran at most of the CASC-OR regional weekends at Mosport. The series featured huge fields and some top quality cars. The CASC-OR photo gallery features the Castrol Canadian Touring Car Championship along with the other CASC-OR classes. Unfortunately, the open-wheel classes were not in large attendance on the weekends that I was there so most of the photos are closed-wheel.

The VARAC Vintage Weekend at the road course in June was a great event. The featured class was Formula 1. I spent two days and the track and created this report with photos.

Mosport's biggest weekend is the American Le Mans Series weekend in August. I've attended them all since they started appearing there. The attendance this year was amazing. The track was absolutely packed. I was only able to attend on the Sunday of the weekend. The ALMS photos from the race are located in this gallery.


Things That Annoyed Me in 2007

Myself: The biggest thing that annoyed me this year was myself. I missed the Autumn Colours Classic at Peterborough for the first time in many years due to my own stupidity. That morning I had all my gear ready for the day. I dropped my son off with his mother and I headed to the track. The weather looked so crappy that I thought for sure it was going to be cancelled. Since I'm a poor, divorced man I have to be careful about spending my money. Of course, it turned out that the entire event was run without rain. Lesson learned - always go to the track.
Canadian Media Coverage: One thing that really bothered me this year was the way the general sports Canadian media covered NASCAR. This annoyance is focused on two different aspects of media coverage: The NASCAR Canadian Tire Series and the Busch race at Montreal.

Leading up to the Busch race in August the media would have its readers believe that it was the first NASCAR race ever in Canada or the first race in almost 50 years. On August 5 Dave Feschuk of The Toronto Star wrote: "Before yesterday, NASCAR hadn't brought its cars to Canada since the 1950's". Not to be outdone in the historically inaccurate department, Toronto Sun writer Dean McNulty made two mistakes in one sentence when he claimed "While not an artistic success, the first NASCAR effort in Canada since Richard Petty won his first race in Toronto in 1958 was popular with fans." Not only was McNulty wrong about it being the first NASCAR race in Canada since 1958, he was wrong about Richard Petty. It was Lee Petty that won that race. It was Richard's first Grand National start though.

These are only two examples that I kept. Many other writers made the same mistakes. For the record, numerous NASCAR series have competed in Canada since the 1950's. These include the Grand National series (i.e. later called Winston Cup / Nextel Cup / Sprint Cup), Convertible, short track Late Model, Late Model Sportsman, Super Stock, Winston West and NASCAR North. I sent an e-mail to McNulty to correct him. I never heard anything back.

The NASCAR Canadian Tire Series received a fair bit of good press in 2007. So why does this bother me, you ask? It's not the quantity but the style that bothered me. It was presented by many writers as a new series. Realistically, it was the CASCAR Super Series with a new name. Slapping the NASCAR label on the series instead of CASCAR did not magically make it "new". It was basically the same cars (I know there were some changes but these were not obvious to the casual fan), the same teams, same drivers and same events. Where were all these reporters for years when the CASCAR Super Series was putting on a great show each week? It's unfortunate that the series had to be purchased by Americans before it was noticed by many of the stick-and-ball media.

Discussion Groups: Well, not all discussion groups but just one aspect of them. I'm sick of anonymous tools whining on discussion groups about a particular driver cheating. Of course when asked for proof, none of these guys have anything more specific than "look at the chassis" or something similiarly vague. It doesn't seem to occur to these morons that the drivers in question could possibly be spending more money / more time / are smarter / are better drivers.

Conclusion
All in all, 2007 was a pretty good season for me. I saw a good mix of oval and road events as well as a split of dirt tracks and paved tracks. I was able to add a new track to my list when I visited Capital City. I saw the World of Outlaws for the first time as well.
Tracks Attended:
Oval Touring Series Seen:
Road Racing Series Seen:
Mosport Speedway
Mosport International Raceway (road course)
Kawartha Speedway
Brighton Speedway
Ohsweken Speedway
Humberstone Speedway
Merrittville Speedway
Capital City Speedway

OSCAAR
Canadian Vintage Modifieds
Ontario Sportsman Series
Ontario Legends Series
World of Outlaws
Southern Ontario Sprints
DIRT Big Block Modifieds
Cup Lites
NASCAR Canadian Tire Series
Ontario Dirt Late Models

Castrol Canadian Touring Car Championship
CASC Ontario Regionals
American Le Mans Series
Speed World Challenge Touring
Formula BMW

The 2007 CanadianRacer.com Awards:


Longest Green Flag Run: 94 laps at Merrittville on August 6 for the DIRT Big Block Modified show.
Biggest 50/50 Jackpot: The $6300 at the World of Outlaws event at Ohsweken wasn't claimed so it was combined with the jackpot for at the Sprint Car Nationals for a total of over $13,000.


Your Turn

Let's hear about your 2007 season. What tracks did you visit and what series did you see? What was new, cool or interesting? What did you like and dislike? It would be great to hear from fans and drivers from across Canada. What was happening in the Maritimes or Quebec? What about the Prairies or the west coast?

Leave your comments here.