If you are the copyright holder of any of the photos on this page and don't wish to have it on this website, contact
webmaster@canadianracer.com
and I will remove it. Otherwise, thank you for your contribution to Canadian racing history.
×
Webmaster's note: This article was originally uploaded in 2004. Al Pease passed away on May 4, 2014 at the age of 92. The article will remain as it was originally posted.
Unless you were around Canadian road race tracks a few, well make that more than a few years ago, you may not remember the name Al Pease. However those of us more mature race fans, ahem will remember Al Pease racing just about anything he could get his hands on from Minis to a supercharged MGB to Dan Gurney's first Eagle, the Coventry Climax-powered Grand Prix car. Al and Eppie Wietzes have the distinct honour of participating in the very first Canadian Formula One GP held at Mosport in Canada's Centennial year, 1967. Al was listed as a finisher in 12th place while Eppie failed to finish due to flooded electrics in the sodden downpour, which made the race an example of the survival of the fittest. They were there and they competed in circumstances which would be unthinkable today, as the time of the rent-a-racer and the private competitor and sportsman have gone the way of the Dodo in Bernie Ecclestone's universe of Formula One.
A number of years ago Al retired to Tennessee where he lives today. He no longer races - he's 82 years young, but he still restores and recreates old race cars and that's how I managed to meet him at the June 25th and 26th weekend at the 2003 VARAC Vintage Weekend. He had just finished the restoration of fellow Canadian racer Bob Hanna's Autosport Special and had towed it up from Tennessee. We sat down and talked and talked for around two and a half hours. The story, which follows, is the distillation of the notes I made over that time.
Al was born in Darlington, Yorkshire in 1921 and he left home when he was seventeen to go to India with the British Army. After several years, he transferred to the RAF and was shipped to what was then Rhodesia for flight training in first Tiger Moths and then Harvards. From there he went to Egypt for operational training in Hurricanes. As the war was pretty well over in those parts by the time he finished his ops training, he again shipped out to England and by this time, it was almost D-Day. He joined a Typhoon squadron where as he put it, "We strafed trains and anything else that moved".
After the war ended, Al decided he just couldn't stay in England any more because he hadn't lived there for so many years. He obtained a job as an illustrator for the SKF bearing company in the USA because his educational background had been in art, but as the US at that time had quotas for immigrants, he decided to try his luck in Toronto, where he got a job working as an illustrator on the catalogues for the large department store, Simpsons. From there, he migrated to various art studios until he formed his own company which he ran for 25 years. Amongst his clients were Carling Breweries, General Motors, Player's, Nortel, Toronto Life, Macleans magazine, etc.
The lure of the automobile and with racing drew him in and he began racing in the 1950s. As he put it,"My Dad was in motorcycle racing as a sponsor and he would take me to grass track-racing meets. However I really preferred cars. In Canada, I started racing in 1952 or 1953 in a Riley 1.5 and joined the British Empire Motor Club or BEMC because they seemed to be the only club in racing in Canada. I soon got rid of the Riley and bought a 1953 TD. In 1955 I got restless and moved to San Francisco, driving there in a Karmann Ghia, but there was not enough business and I returned to Canada. It was then I decided to get serious and began to race a twin cam MGA. It was at that time I first met Dick Baker who commissioned the restoration of the Autosport Special. I did very well with the twin cam and was the only British car that could stay with the Porsches, but never higher than third, even though guys like Ben Pon were behind me. By the way, Tony Simms another long time racer and current vintage racer, has my twin cam. Now, I had to find a way to go quicker and that started with an MGB. Because of my success with the twin cam, I now had a full BMC sponsorship. By that I mean that they gave me a car and a budget, and I was also racing their Mini as well. That MGB was a very successful one although unsupercharged at first. Because of its preparation which included a Derrington crossflow head with twin Webers, all alloy body, close ratio transmission, alloy calipers, Cooper alloy wheels, etc. It even had alloy door hinges. Later we decided we needed more power and supercharging was the only way. Here's what happened. I had some friends who were engineers at Chrysler. They were enthusiasts and did the work of building the supercharger from scratch on their own time. It was a one-off design. They even made an intake manifold to accommodate the supercharger. John Camden was one of the men behind the project. That engine was really special."
However fast the supercharged MGB was - and once Al was on the front row of a race alongside a Lister-Chevrolet, it wasn't enough. He started running a Lotus 23 and to the dismay of the race organizers back then, he put his sponsor's name on the side of his car. "I ran the Lotus with the name of Honest Ed on the side of the car. Honest Ed started off with a discount store in downtown Toronto. He now owns the Prince of Wales Theatre and the Royal Alexandra Theatre and is a promoter of the arts in Toronto. Craig Hill, another racer and I were instrumental on getting ads on cars. There was a lot of what I would call 'fuddy-duddy ness' around. I had arguments with the organizers on the size of the lettering.. 'They don't do that in England' I would hear. Then, about 1967, Bob Hanna, Paul Wilson and I started Centennial Motor Racing. I had a new Lotus 47 and we got Castrol Canada to sponsor me." That sponsorship would lead Al to the Gurney Eagle Climax and an entry in Canada's first ever, Formula One Grand Prix.

In 1967 the Canadian Autosports Club managed to obtain permission to hold the first ever Formula One Grand Prix at Mosport. Al, like many other automobile race enthusiasts, had dreamed for years of such a day. Castrol Canada was scheming to get a Canadian entered in the great race. "Castrol came to me for my opinion on something they had been planning. They wanted to be the ones to get the first Canadian driven car in the F1 GP. They told me they had the opportunity to purchase the F1 Eagle Climax of Dan Gurney who was also sponsored by them. I advised them to rent the car, but they wanted to purchase it. Make no mistake about it. It was a beautifully built car, but it was not competitive. However, I did qualify for the race in the compulsory 10% of the fastest time. Dan Gurney told me that if I didn't get it started with the first push of the button, that would be it. The battery would be flat. Something to remember in light of what happened later. In the race itself, the battery went flat on the track. I ran back to the pits, and it took me a while because I was about as far from the pits as you could be. Later I was criticized for doing that. I was told I should have retired. However, I wasn't thinking about that. I was thinking about racing. I was thinking also about the sponsor. I did finish the race. When I think back on it, it was a rather bad start to that particular era. Another problem I faced with the Eagle was lack of braking. At the end of the race, I had virtually no braking left. We looked in the brake cylinder, and there was no fluid in it. It was a problem, which we could not trace.



We entered the Eagle at a race at St. Jovite in Quebec and spent all weekend trying to trace where the brake fluid was going. Finally, we decided to race anyway, and the Eagle ran great. I qualified second and was leading the race by the end of the first lap. However, during the race I was at high speed going down to a sharp right-hander just before you would enter the pits. You go from around 140 mph to 40mph. I put my foot on the brake pedal and - nothing! Fortunately there was a bank and I hit that. The resulting crash destroyed the front suspension, and the front wheel was pushed back into the tub. We sent the car back to Dan and AAR for a rebuild.
Subsequently, in an examination of the Eagle, during the course of rebuilding the front suspension, Dan and his people found out there was a hairline crack in one of the calipers, which would only show when the caliper got hot. When the brakes got hot, the crack would allow the fluid to come out and evaporate. I had been entered for an F1 race at Watkins Glen, but it didn't happen. After the car came back from California, it was shipped to Expo 67, Canada's World Fair, and it was put on a turntable. It stayed there for some time.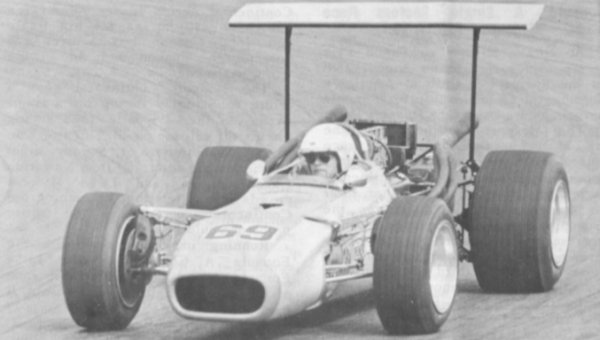 It was at about that time that the Formula 5000 series began, and I made a bad decision. We should have run the Eagle in the series. There were some people who said we should have installed a Chev in the Eagle, but I said no as I didn't want to destroy the historicity of the car. Instead, I bought a Lola from Bobby Brown, but the engine was tired. Our first race was at Mosport, and I remember it rained all weekend. We had a competitive car nonetheless against a good field: George Eaton was there in a Paul Cooke McLaren and there were others like Eppie, Bill Brack in his Lotus plus a bunch of US guys. I finished third in that race. However we embarked on a series of engine failures, which we couldn't diagnose. In each case the rear main bearing would go in the engine. We would send the engines back and they would come back and the rear main bearing would go again. It turned out that the machine shop to which we entrusted our engines had miscalibrated their machines and so an engine failure was a foregone conclusion. Frustrating.
By this time, the Castrol sponsorship was out. I was pretty much running on my own with the exception of John Maryon, a structural engineer. He was a pretty laid back guy and sponsored us when he could. I was running down in my racing career by this time. I did drive another car, a Brabham BT21 with a 2.7-liter Climax engine which I 'borrowed' from the Eagle, and I ran some races here and in the US. The owner of the car, Paul Seitz, never did drive the car. I had several very successful races in that car, including the last race ever held at Harewood Acres, west of Hamilton, Ontario which I won.
My business was starting to expand, and I was getting better known in the industry, and I had to look after my employees. All of this meant I should get out of racing permanently at least at the professional or semi-professional level at which I was running. I sold my Lola to a fellow from Windsor who promptly put a full roll cage in it and ran it in short track stuff. In the next five years, I didn't do anything in racing. For a while I was secretary of the Canadian Race Drivers Association in the late 1960s and early 1970s and then I left that position."
However, Al went to a vintage race and,"saw an old Lotus 20 being driven badly, and I thought I should get into vintage racing as it seemed to be low key. The original Lotus 20 sold for $3500 but as a vintage car the price had gone up to $10,000. It needed a lot of help so I took it apart and restored it, and then went vintage racing. I ran fairly consistently for two years, and the car started to get really old. I then built a brand new Lotus 20 from scratch. It took a while. Peter Denty, a very famous Lotus restorer in England and Europe helped me find everything I needed. I used the identity plate of the first car on my reconstructed car.
At this time, we were getting into what was real and what was not real in vintage racecars. It was assumed that the number of the original car made it original. I sold the first Lotus 20 to a guy in the USA."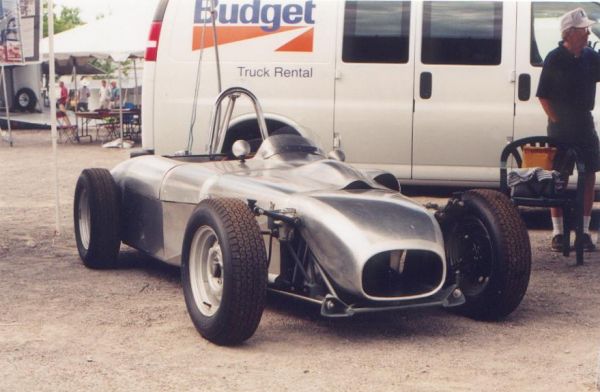 Currently, Al has just completed the Autosport Special originally built by Bob Hanna in 1955. The bits and pieces were collected over the years by the late Dick Baker, guru of Canadian vintage racing. However, can we call the reconstructed Autosport Special the Autosport Special? Here is what Al has to say about the car he spent four and a half years building. "This Autosport Special is not the one Bob Hanna built. You cannot build a car and say it's vintage, unless you have a lot of the original, especially the frame. The sons of Dick Baker still have the original Buckler frame, which is very twisted and unusable. Here is another example. The '20 I built, if I'd thought the way I think now, I would have stripped the original and kept it from the beginning. The new Lotus 20 I built was a very successful car and the last time I ran the car was in 1988 at Atlanta where I was run over. We were racing the big bore sports cars when I got run over by a fellow in an Aston Martin. There was a slowdown in front of me, and he didn't slow down. He went right over me, over the roll bar. I rebuilt the car and that was it.
Today, I live in Sevierville, Tennessee and I restore some old race cars from time to time and that's about it."
Al has packed a lot of living in his 82 years and while he did not make a huge impact in his Formula One racing attempts, let's face it, what he did would be impossible to duplicate today. Private entries are a thing of the past, and rent-a-racers? Forget it. His story is a fascinating one, and from what I learned from Al, there is a great deal left to go.
Webmaster's note: As indicated above, this article was originally uploaded in 2004. Al Pease passed away on May 4, 2014 at the age of 92. The article will remain as it was originally posted.