Bill Brack in 1968 at Harewood Acres. Courtesy of ColourTech Motorsports Photography
If you are the copyright holder of any of the photos on this page and don't wish to have it on this website, contact
webmaster@canadianracer.com
and I will remove it. Otherwise, thank you for your contribution to Canadian racing history.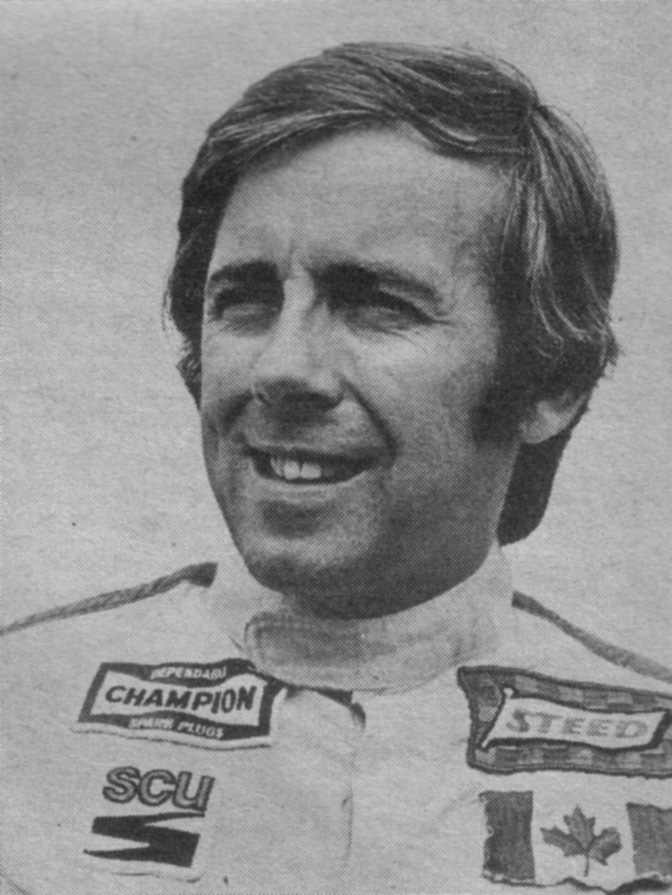 Back in the 1960s, if you raced or rallied an Austin Mini Cooper, you would have met and probably been defeated by Bill Brack. Bill started off ice racing his Mini and then purchased a Mini Cooper from Gord Brown who was a salesman at the British car dealership Ensign Motors in Toronto. As the Mini Coopers Bill raced grew in displacement, Bill went from the early 850 to 1000 cc Coopers to then ultimate Mini Cooper, the 1275.
Bill went on to own his own dealership, Sports Cars Unlimited and became the Lotus distributor for Canada. His Lotus dealings would result in his moving to a Lotus 47, a twin cam powered version of the Europa and from there to a Lotus 47 Formula B with which he took the championship in 1967 and in 1968. From there it was on to Formula 5000 in a hybrid Lotus and then the racers' ultimate dream: Formula One rides for Lotus and BRM.
Bill went on to take three Canadian Formula Atlantic Championships in 1973, 1974, and 1975. He left racing to move into a successful business career, and today runs a Daimler Chrysler dealership, Downtown Motors in Toronto, Ontario (Near the Princess Gates where the Indy cars make their first serious turn) where I caught up to him. His racing heritage is on display in his showroom where he displays his winning Lotus 59/69. More about that seemingly odd designation in a bit.
JRW: You are Toronto born and bred, are you not?
Bill Brack: I grew up in Toronto and went to Parkdale Collegiate, which is not too far from my dealership.
JRW: You started competing in Minis in ice racing, correct?
Bill Brack: I originally started ice racing in Minis in a company car up near Huntsville. Then I bought my first Mini from Gord Brown at Ensign Motors here in Toronto. From there, it was a factory 850 Mini from Ensign Motors. It was Gord Brown's racing Mini. And then, they just kept going up in displacement from 850 cc to 1100 cc to the 1275S. That was in the early 1960s. I also became a salesman at Ensign.
JRW: However, you left Ensign fairly early on.
Bill Brack: I started Sports Cars Unlimited, and we became Lotus importers in the mid-1960s. By now I had started racing a Lotus 47, a type of Europa with the twin cam engine, and we were fairly successful with it. Then I went to Formula B and became the eastern champion in 1967 and in 1968. I also raced lots in the USA and Canada in the Lotus 41, Formula B. That was from 1967 to 1968.
JRW: Tell me how you made the jump to Formula A/
Bill Brack: We got a Lotus Indy car from Rob Lamplough who bought many of Colin Chapman's Formula 1 cars. He's mentioned in the book about the Lotus 49. I was with Lamplough in Norfolk but not at the actual meeting where Lamplough met with Chapman. He bought several cars including the Monaco winning Lotus 49, which Graham Hill had driven. Then, Chapman wouldn't go through with the deal and it took
Rob 15 years to get title to the car. At any rate, the team had this Lotus Indy car and had it shipped to Indianapolis for the 1966 race. They didn't need it as it turned out, and they shipped it back to England. It gets complex. Rob bought the car, and then I bought it from Rob. What to do with this car which was designed for the four cam Ford Indy engine? So, I said, let's stick a V-8 in it and go racing. I shipped the Lotus to the Lotus F1 shop, and Martin Wade of Lotus did the drawings and made a frame to fit at the rear of the monocoque to hold the V-8 because there was no chassis behind the driver.
I should point out that Lotus let us do all this in their shop, and Martin Wade didn't charge us a penny. The work they did on my car assisted them in bringing out their own Formula 5000 the next year. Basically we built our own car in the Lotus shop. Craig Hill, another Canadian racer, knew some guy in Detroit who did dragster engines by the name of Landon, I forget his first name, and we bought some engines from him. We flew one of the engines to England and installed it with the new space frame. We had a Formula A racecar.
JRW: How did your unique Formula A car perform?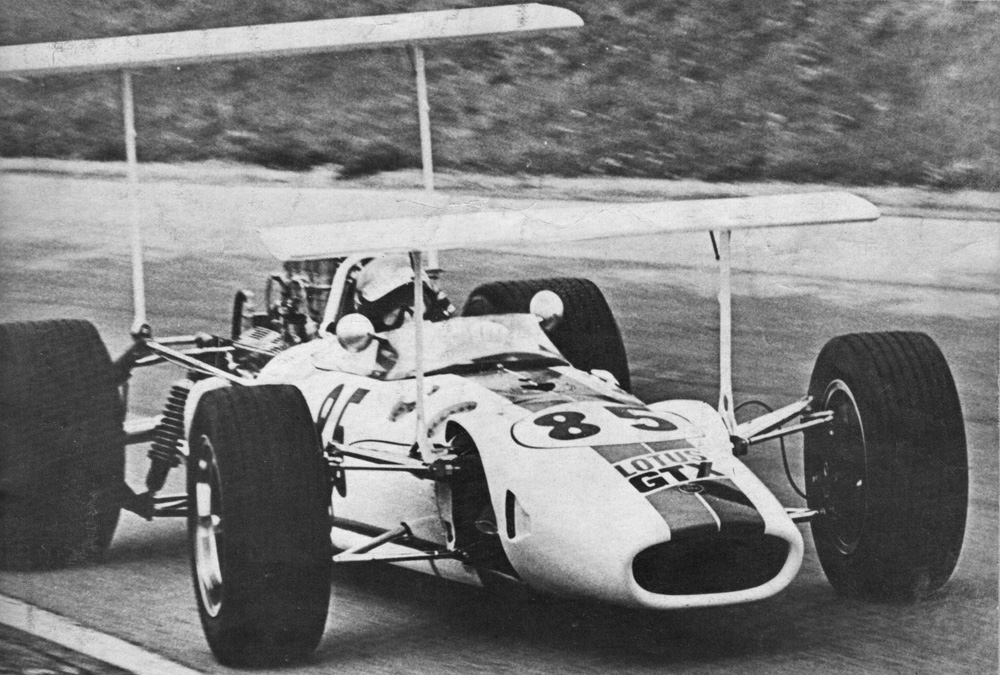 Bill Brack: In one race, I had a tremendous dice with George Eaton. Was he in a McLaren? I don't remember exactly. However, we had this tremendous race which ended up with George spinning out. I went on to win. That car never failed me.
JRW: You had some close calls in some of your races in that car, though.
Bill Brack: There was a Lime Rock race. Another driver ran into me and I flipped. I landed in a sandbank upside down with fuel soaking me. My mechanic Doug Crosty defied the marshals who wouldn't let him cross the track, and he pulled me out. Remember those were the days when the rules for fire safety and tank integrity were not as stringent as today.
There is a side story I should tell you as well, and it deals with my Lotus 41 Formula B car. I met Dick Smothers of the Smothers Brothers in 1968 when I bought the Lotus 41. I first drove that car in England. Then it was my first race with it in Colorado, out west in a National Formula B race. I had never raced a single seater before. The race took place in April or May and there were over thirty racers there. I had difficulty qualifying and ended up 23rd or so. Alongside me was Dick Smothers in the same type of car. Later he went on to race in Formula 5000 and he had the same type of car I did too.
JRW: Then you went to the Lotus 70 Formula A. Tell me how you felt about Formula A cars which had all that horsepower.
Bill Brack: It was hard. I don't know if I ever did get used to that much power. The amount of testing we had in those days was minimal. There really was not all that much money around to do the amount of testing needed to sort out a racecar.
JRW: Speaking about testing and getting used to a high-powered racecar, tell me about the circumstances surrounding your Lotus Formula I ride in 1968. It's a situation, which would definitely not arise today, is it not?
Bill Brack: Let me tell you about that. It just wouldn't happen today. In 1968, for the St.Jovite race, Team Lotus brought three cars: one for Graham Hill, one for Jackie Oliver, and a spare car. I was the Lotus distributor for Canada, and so I called Colin Chapman. I mentioned the GP and the chances of driving the spare car, blah, blah. The upshot was that for a sum of $6,000 I was to drive the spare car. So then we had a press show in Toronto, the week before the race at the Sutton Place Hotel, and I asked if Graham Hill could be there. He flew to Toronto for one night, and you couldn't have had a better ambassador for the sport. He was a charming, affable person with story after story. I hadn't met him before and I'm driving him to the reception, and I said,' I'm really excited driving with you at St. Jovite.' He looked at me as if I were on drugs. I went on with,' I made an arrangement with Colin.' He replied,'What? Not bloody likely, mate!' However, when I arrived at the track, it was obvious that he and Chapman had had words. Here's how it played out. First of all, you've got to remember that I had never driven anything like a Formula 1 car before. I was told just to go out for five laps of practice and that was it. Then I was told to go out and do five laps in qualifying and that was that. Obviously they were trying to keep the car in one piece, and I eventually started at the end of the pack. Jackie Oliver was trying to help me as much as he could. I told him that there was one corner that I could not take flat out, and he told me the car could do it and that I had to make the car do it. He said that once I have forced the car to take that corner, it would be easier next time.
JRW: There was more to it than that though, wasn't there?
Bill Brack: Yes. That year, the Lotus 49 had a weakness in the rear drive shaft. They had a tendency to twist. There would be vibration and then the drive shaft would snap. My car was fine, but Graham's had that vibration. Over the night, the mechanics switched the drive shafts from Graham's car to mine and vice versa. You have to remember that Graham was in a tight battle for the F1 World Championship that year. During the race, I noticed that my car was different, but I passed a few cars. Then I was out.
JRW: How do you feel about that F1 ride today in retrospect?
Bill Brack: It was mistake because I had not driven a F1 car ever before. By the way, Mario Andretti took the car I drove and put it on the pole at the Watkins Glen GP. Mario had driven a Lotus 49 somewhere in Europe at least.
JRW: How did your BRM ride at the 1969 and the 1971 Canadian F1 GPs come about?
Bill Brack: Phil Lamont who was the Dunlop distributor for Canada was also the Track Manager for Mosport at the time, and he set it up. BRM had a couple of extra cars and that was it. I finished seventh at the 1969 race but it is not recorded for some reason or other. In 1971, I went off at Moss Corner and was unable to restart.
JRW: In addition to some forays in Formula 1, you were also very busy in Formula B were you not?
Bill Brack: Formula B came in as the Canadian Championship series in 1971-1972, I think. Brian Robertson won in 1971. I rented a car and ran one race in 1972. I had gone to the International Race Car Show in London and saw the car mounted on the wall at the Lotus display. Dave Walker had driven the car and had won 23 FIII. A year or so later, in 1973 I think, I saw an ad for the same Lotus 59/69 in Autosport. I told my mechanic Doug Crosty that we should put a twin cam in it. It was a FIII with narrow wheels and we put wider wheels at the back. To make a long story short, we won the championship with it in 1973. Then the officials changed to the Formula Atlantic series and we put a BDA in it and with some STP sponsorship won the series again in 1974.
JRW: What was that series like?
Bill Brack: It was a tough series with many soon to be F1 champs in it, like Bertil Roos. My last race in the series was at Halifax, Nova Scotia, and the Chevron distributor came up to me and gave me a Chevron to race. We painted it up and in the rain won the race going away. I think I lapped the field twice, the car was that good. By now the Lotus was four years old, and the Chevron was an up to date racecar. For 1975, we ran the Chevron in the Formula Atlantic series and won it again.
JRW: However successful you were in Canada, you also raced in the USA pro Formula B series with some success. Can you tell me about one of your races?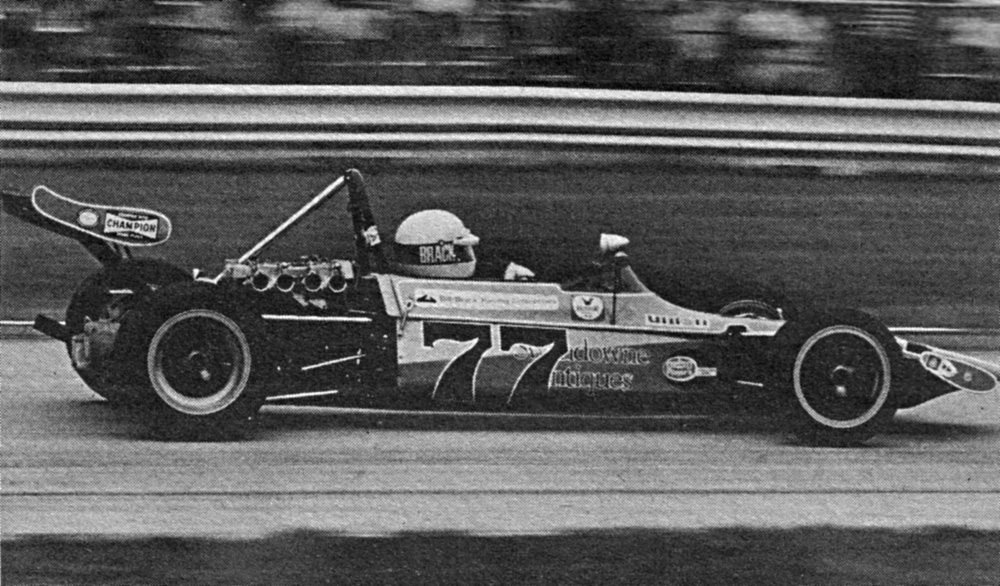 Bill Brack: In 1973, I took the Lotus 59/69 to Elkhart Lake. There were 25 Formula Bs there, and I had this old car which was at that time three years old. They're looking at the car and saying,'Brack what's wrong with you?' We were looking at the long straights they have at Elkhart, and we had these narrow FIII wheels and Dunlop tires from England, courtesy of Phil Lamont. In practice, a brake line went and I went off the track and tore up the suspension. After all night repairs we started last on the grid. It was a rolling start. I don't know if you know the track, but you go uphill towards the start finish line, up a slight rise, and you can just see the flag at the tower. We came out of the last corner, and I pass 20 cars and went into the lead. I never saw another car again and won the race. I was the narrow wheels and tires on that car that made the difference.
JRW: Something the same happened at the FB race at Edmonton, didn't it?
Bill Brack: In a Canadian championship race at Edmonton, the same thing happened. We blew away everyone and won the race. I had slowed down for a yellow flag, and Bertil Roos passed me. I pointed at him as we passed the tower. He was disqualified for passing under a yellow flag. By the way, shortly afterwards, they outlawed the narrow tires and you had to have 10" fronts and 15" rears, but those Formula III wheels and tires were 8" fronts and 10" rears.
JRW: What plans do you have for the future, and do you do any vintage racing these days?
Bill Brack: I run a Daimler Chrysler dealership in Toronto, called Downtown Chrysler, and I've driven the Lotus 59/69 at local VARAC events, but I'd really like to do a Mini next time. My son is planning on getting into racing, perhaps in the Formula Renault Series when it comes to Canada. We'll see.
JRW: Bill, thanks for your time and all the best for the upcoming vintage season, preferably in a Mini 1275S.
×