If you are the copyright holder of any of the photos on this page and don't wish to have it on this website, contact
webmaster@canadianracer.com
and I will remove it. Otherwise, thank you for your contribution to Canadian racing history.
The first Formula 1 Grand Prix of Canada was held at Mosport in 1967. In 1968 it switched to Le Circuit Mont-Tremblant, then back to Mosport in 1969 and back to Tremblant in 1970. In 1971 Mosport became the permanant home of the Canadian Grand Prix and was contested every year. Well, every year until 1975.
1975 - Bernie & Max vs Harvey & Bernie


Traditionally, the two North American F1 venues - Mosport and Watkins Glen - shared the transportation costs to bring the F1 teams to North America. In addition, each track contributed to a combined purse that was expected to include a share of $240,000 for Mosport in 1975. In the summer of 1975 the Formula One Constructors' Association (FOCA) informed Mosport and Watkins Glen that they would have to each put up a larger purse for their respective races in 1975 with Mosport's share being $277,000. Both tracks put up a unified front opposing the increase for a time but eventually Watkins Glen gave in to FOCA's demands. Mosport continued to hold out, but in early August, a representative called FOCA representative Bernie Ecclestone at the German Grand Prix to inform them that Mosport would pay the increased purse. The next day FOCA announced that since Mosport would not pay the standard purse for a non-European race, then the FOCA members would not attend. FOCA did not have the authority to cancel the race but since most teams were members of FOCA, it appeared that the race would not happen.
As usual in these situations there are two sides to each story. The two sides in this case were Bernie Ecclestone and Max Mosley from FOCA and on the other side were Harvey Hudes and Bernie Kamin from Mosport.
Mosport's position was that they had made an agreement with FOCA in 1973 that detailed the costs for transportation and purses covering the 1973 - 1975 races. Mosport admitted that they had missed a deadline (by a few hours) to confirm the 1975 purse but that FOCA was not being faithful to the 1973 agreement by raising the purse cost.
FOCA's position was that Mosport had never signed the agreement and had missed the payment deadline. Mosport appealed to the FIA but the FIA ruled that they could not force the FOCA teams to participate.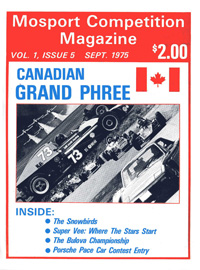 Hudes argued that FOCA was making an example of Mosport in order to intimidate the European circuits so that he could raise the purse cost in 1976. Hudes made an attempt to contact F1 teams that were not part of FOCA. He was only able to secure 6 cars. He and the event sponsor, Labatt Breweries, agreed not to run a race in those conditions. The race was be cancelled and the court battles were on.
There was racing at Mosport on the scheduled Grand Prix weekend. The track held a "Grand Phree" (also spelled "Free") weekend featuring the Bulova Formula 100 cars, Bulova 2.5 litre Sedans, a Gold Cup Super Vee race, an airshow by the Canadian Forces Snowbirds and a raffle for Mosport's Porsche pace car. As the name suggests, the "Grand Phree" weekend was a no-charge event to specatators.
Mosport formed a company called Mosport (New York) Corporation and filed an injunction against Watkins Glen with an attachment order holding back over $130,000 of the purse for the Watkins Glen race. Over the winter the racing community was fairly pessimistic that there would be a 1976 Grand Prix of Canada despite it being tentatively included on the schedule. By June the situation was looking more optimistic as Mosport and FOCA had been in negotiations to hold a 1976 race in exchange for Mosport dropping their lawsuit. In addition, Mosport was talking with Labatt about increasing their financial commitment in order to offset the increased purse.
Everything came together and Mosport was back on the schedule for 1976, although its days as an F1 venue were numbered. The 1977 race would be the last F1 race at Mosport. The event moved to Ile Notre-Dame in Montreal for 1978.
1987 - Labatt vs Molson
Following the 1986 Grand Prix of Canada, FOCA made an agreement with California race promotor Jack Long to organize and promote the 1987 Grand Prix of Canada. Long, in turn, signed a sponsorship agreement with Molson. Unfortunately, Labatt Breweries had first right of refusal for Circuit Gilles Villeneuve at Ile Notre-Dame. Labatt also had an agreement with Canadian Automobile Sports Clubs (CASC) for exclusive rights to the Grand Prix in Canada.
In January, 1987 the issue went to court. A lower court ruled that the City of Montreal could make a deal with Molson and Jack Long. Labatt appealed and the Quebec Court of Appeal overturned that ruling. Upon this ruling, Jack Long took the position that he would move the race back to Mosport. By March, Bernie Ecclestone had grown tired of the fighting and dropped Canada from the 1987 schedule.
The court battles continued past a September deadline set by FISA and it appeared that Canada would be off the 1988 schedule as well. When the 1988 schedule appeared in October, Canada was included as a tentative date. In early December Labatt withdrew its court challenge, freeing up Long and Molson's to sign with the Ile Notre Dame circuit. There was still one barrier - Formula One had a limit of 16 races per season and Canada was the 17th. This was also resolved on December 23 when Mexico asked to be removed from the 1988 schedule due to economic conditions.
Canada was back on the schedule for 1988.

2009 - Off the Schedule Again

This article was originally written back in 2003 when there was a question of whether Canada would have a Grand Prix in 2004. The issue that year was the ban on tobacco sponsorship in Canada and the resulting conflict with Formula One's sponsorship deals. The Quebec government stepped in to cover the cost of lost sponsor dollars and the 2004 race went ahead as scheduled.

Since the article was written, the 2009 Grand Prix of Canada was added to the list of cancelled Canadian Grands Prix. The issue wasn't so clear this time. One day I will dig a little deeper but it appears to either have been about a cost dispute or a scheduling issue as the Grand Prix of Turkey was added in the slot originally scheduled for Canada.

2020 & 2021 - Cancelled

In both 2020 and 2021 the issue was the worldwide COVID-19 pandemic that derailed many sports schedules.