×
NASCAR's top division has only appeared in Canada twice. Some fans may be confused about this because Grand National drivers often appeared in other NASCAR sanctioned races in Ontario and Quebec in the 1950s and 1960s. None of these were on the Grand National schedule though. These races were part of the NASCAR Short Track Division or the NASCAR Late Model Sportsman Division.
1952 Grand National Race
Canada's first NASCAR Grand National race, and the first series race held outside the United States, took place at Stamford Park Race Track, near Niagara Falls, on July 1, 1952. The race was promoted by Ed Otto of Buffalo, NY. Otto was already a seasoned promoter by this time, organizing races in New York State for many years. He had already promoted the NASCAR Late Model Sportsman Division races at Stamford Park in 1950. Stamford was a flat, half-mile dirt horse track that also ran stock car races beginning in 1948.
It was a one-day show on July 1, with qualifying at 1:00pm and the feature starting at 2:30pm. About 4,000 fans were on hand to see the 200 lap event. Buddy Shuman, from Charlotte, NC, driving a Hudson Hornet, won the race by two laps over second place finisher Herb Thomas. Shuman took the lead on lap 71 and led the remaining laps. It was Shuman's first, and only, Grand National victory in his career. He was coming off a second place finish two days earlier at the Michigan State Fairgrounds.
Seventeen cars started the race but the rough track caused high attrition with only six drivers finishing. Admission was $1.75 for the event.
Stamford Park Results
July 1, 1952
Fin
Qual
Num
Driver
Car
Laps
Status
Winnings
1
8
89
Buddy Shuman
1952 Hudson Hornet
200
Running
$1,000
2
1
92
Herb Thomas
1952 Hudson
198
Running
$700
3
7
44
Ray Duhigg
1951 Plymouth
193
Running
$450
4
14
421
Jack Reynolds
1951 Plymouth
183
Wheel
$350
5
13
Perk Brown
1950 Ford
176
Running
$200
6
10
52
Neil Cole
1950 Plymouth
168
Engine
$150
7
16
Fonty Flock
1951 Henry J
163
Running
$125
8
5
118
Bucky Sager
1951 Hudson
154
Wheel
$100
9
12
93
Ted Chamberlain
1950 Plymouth
134
In pits
$75
10
17
Albert Lemieux
1950 Mercury Meteor
121
Running
$50
11
11
Charles Barry
1951 Ford
87
Overheating
$25
12
3
120
Dick Rathman
1951 Hudson
78
Engine
$25
13
2
91
Tim Flock
1951 Hudson
59
Accident
$25
14
9
1
Eddie Lenz
1950 Oldsmobile 88
55
Accident
$25
15
6
3
Hershel McGriff
1952 Oldsmobile 88
45
Engine
$25
16
4
42
Lee Petty
1951 Plymouth
40
Engine
$25
17
15
Jack Hauher
1949 Ford
26
Engine
$25
Time of Race: 2 hours, 11 minutes, 33 seconds
Average Speed: 45.610 mph
Pole Winner: Herb Thomas, 52.401 mph

1958 Grand National Race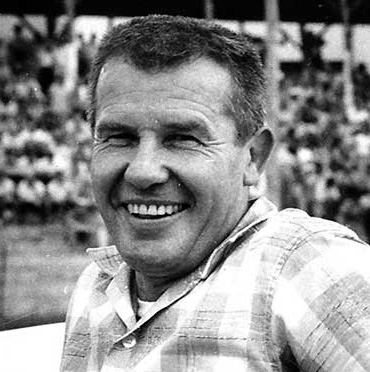 The next visit for the NASCAR Grand National division was on July 18, 1958. The track was the 1/3 mile oval at the Canadian National Exhibition grounds in Toronto. Ed Otto was the promoter for this race, just as he was for the Stamford Park race in 1952. He had brought the NASCAR Short Track division to the CNE each year since 1952. This often included Grand National drivers such as Lee Petty, Bob Welborn, Jim Reed, Buck Baker and Rex White. Otto was also the promoter for the 1956 NASCAR Convertible division race at the CNE. For 1958, Otto upped his game and brought in the Grand National division as part of a northern swing for the serie that included races in New York State and New Jersey.
Over 9,700 fans were in attendance for the evening which also included the regular CNE modified stock car division (early version of a super modified). There were three heat races, with the winners being Shorty Rollins, Lee Petty and Cotton Owens. In the 100 lap feature, Lee Petty took over the lead on lap 72 and held on for the victory by two car lengths over Cotton Owens. The event was fairly incident-free except for some minor spins due to the track still being somewhat wet from a heavy rain earlier in the evening. The purse for this race was $4200.
The most historically significant element to this race is that this was Richard Petty's first Grand National race. In an event that is now famous in Petty lore, Richard crashed out of the race after being bumped by his father.
What were the circumstances that led to the Toronto race being Richard Petty's first ever Grand National start? It was mostly a matter of timing. Lee told Richard that he couldn't start racing until he turned 21 years old. A few days after Richard's birthday on July 2, he approached his father and told him he would like to try racing. Lee gave him a 1957 Oldsmobile from the previous season. Richard got the car ready and ran his first-ever race at Columbia, South Carolina on July 12. The race was part of the NASCAR Convertible Division series. Richard bolted a roof onto the car and brought it north to Toronto. The next few days are not as clear. There was a Grand National race on July 16 at Stateline Speedway in Busti, New York that Lee entered. It is not known whether Richard was there but chose not to race or hauled north on his own later.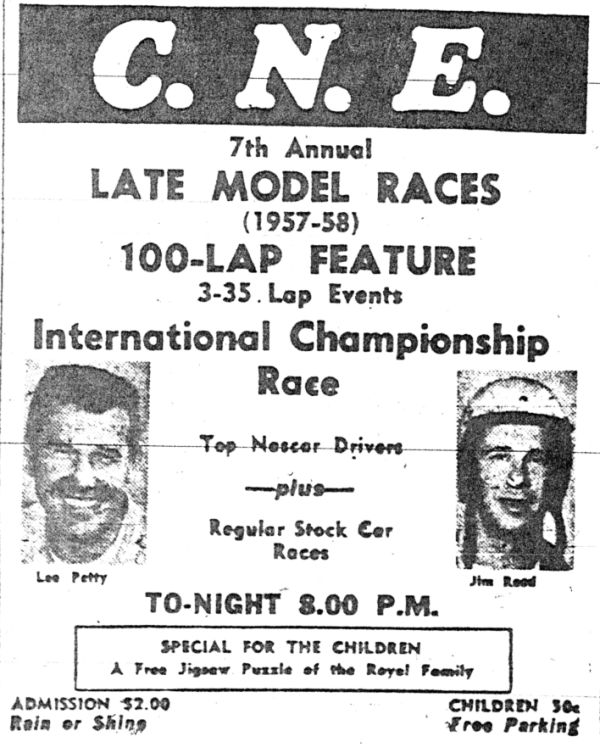 Some sources refer to this race as the "Jim Mideon 500". None of the Toronto newspapers called it that at the time. No American newspapers used that name either. It is a mystery who Jim Mideon was and why it would be a "500" when it was 100 laps on a 1/3 mile track.
Two of the Toronto newspapers were not impressed with the NASCAR race. The
Telegram
called it, "noisy, dreary" and stated that, "There are faster, more thrilling races any Friday night on the Barrie highway when the cops aren't looking." The
Toronto Star
called the race, "the supposed highlight of last night's card" and noted that some fans left early because they were, "enthusiastic about the regular stock races, seemed bored by the late model cars." Both newspapers gave more extensive coverage to the regular modified division and placed the NASCAR details at the end of their articles. The
Globe and Mail
was more neutral, not providing any comment on the excitement and led off their coverage of the night's races with the NASCAR angle.
To date, this was the final Grand National (Winston Cup, Sprint Cup, etc) event held in Canada. Numerous other NASCAR series have appeared, but the sanction's premier class has not been back.
CNE Speedway Results
July 18, 1958
Fin
Qual
Num
Driver
Car
Laps
Status
Winnings
1
3
42
Lee Petty
1957 Oldsmobile
100
Running
$575
2
4
6
Cotton Owens
1957 Pontiac
100
Running
$480
3
2
7
Jim Reed
1957 Ford
100
Running
$305
4
5
99
Shorty Rollins
1958 Ford
100
Running
$275
5
6
23
Johnny Mackison
1957 Mercury
99
Running
$220
6
8
57
Billy Rafter
1957 Ford
99
Running
$210
7
1
44
Rex White
1957 Chevrolet
98
Running
$190
8
12
79
Tiny Benson
1957 Chevrolet
98
Running
$175
9
11
711
Bill Poor
1956 Chevrolet
97
Running
$180
10
17
95
Bob Duell
1957 Ford
96
Running
$150
11
10
17
Howard Phillippi
1957 Ford
94
Running
$160
12
9
74
L.D. Austin
1956 Chevrolet
93
Running
$120
13
16
93
Ted Chamberlain
1957 Chevrolet
92
Running
$115
14
14
33
Al White
1958 Ford
86
Running
$105
15
18
13
Peck Peckham
1956 Chevrolet
86
Running
$95
16
15
41
Neil Haight
1956 Chevrolet
69
Running
$105
17
7
142
Richard Petty
1957 Oldsmobile
55
Crash
$115
18
13
83
Lennie Page
1956 Ford
22
Ignition
$90
19
19
18
Dick Walters
1956 Ford
18
Read End
$65
Time of Race: 46 minutes, 16 seconds
Average Speed: 43.184 mph
Pole Winner: Rex White, 51.406 mph