Mosport Speedway
Mosport, ON
Status
Closed
Years in Operation:
1989-2013
Name History:
Mosport Ascot North (1989)
Mosport International Speedway (1989-1997)
Mosport Speedway (1998-2013)
Track Configurations:
1/2 mile clay oval (1989)
1/2 mile paved oval (1989-2013)
Program Covers
Click an image - photos will appear in a new window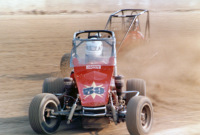 Bob Cicconi, USAC Midget on July 15, 1989. This was supposed to be the first event when the track was dirt. Submitted by Dave Cook.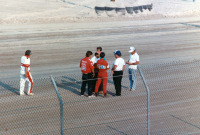 July 15, 1989 - on-track meeting to discuss the track conditions as the midgets were causing the track to rip up. The decision to cancel was made at this meeting. Dave Cook is man in the white shirt and no hat. Midget racer Rich Vogler is in the red firesuit. Mosport president Harvey Hudes is in the blue and white hat. Submitted by Dave Cook.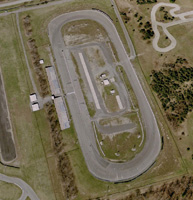 2004 aerial photo from Google Earth. The Driver Development Circuit can be seen at the left. The oval was torn up in 2013 and the DDC was exanded into the freed space.